Call us today
937-678-4358
Concrete and foundation work
Need to replace that crumbling concrete driveway? Tired of getting the run-around? O'Daniel Construction can help. We have extensive experience removing damaged surfaces and pouring solid concrete in its place. Our team will examine your current concrete to determine if you need minor concrete repair or an entirely new surface. From there, we'll provide you with a written estimate and get your approval before we begin working.
You can't take chances when it comes to something as important as your concrete. That's why O'Daniel Construction is dedicated to providing superior paving services. Our paving contractors know your concrete surfaces have to be able to take the wear and tear of the elements and your daily activities. Our concrete contractors ensure that your new concrete is poured effectively and you get the durable surface you need!
"Thanks again for your help with the insurance inspector. We have had several compliments on the roof – and on your workers."
-Marcia and Ed
"Thanks for the new roof it looks really good. Call you in the spring for more work."
– Jim and Dianna
"Jim and I can't thank you enough for all the hard work and long hours you put into our home! We appreciate you!"
– Jim and Sarah
"We really appreciate the speedy and professional work you did on our roof."
– Terry and Janice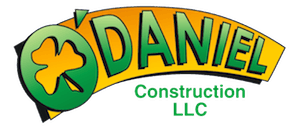 Address
464 St. Rt. 503
Arcanum, OH 45304
Set up a free estimate today!
Set up a free estimate today!